Sep. 30th, 2011 @ 02:43 pm
looking for advice on training pls
Current Mood:
content

Hello,
I adopted a aussie cattle dog/ begal mix in july of this year. I wanted a dog that was nothing like my old sheppard/rotti mix, and boy did i manage to get that.
My dogs name is Blueberry, but we usually only call her Blue. She came with her name and we didnt want to change it because we figured she had already had enough change. She was brought to Ontario from Ohio. From what i have been told she was a stray and had 1 litter of puppies before she was brought here. She was in a high kill shelter in Ohio. We figure she is about 2 and 1/2. She is an amazing little dog, and my daughter loves her to death. My issue is that she is too smart for her own good, and she is one of the most stubborn dogs I have ever come across. Is there anyone out there that finds this to be true of their aussie mix? When she is upset with me she will pee or poop in the house, and she loves to get into the garbage and the kitty litter :s
Any advice or suggestions are welcomed. I would love to know that i am not the only one having issues with this mix breed of dog.

Thank you
Jul. 28th, 2010 @ 12:22 pm
Aussie/beagle mix
I just adopted an 8 month old aussie/beagle mix. She's already 30 pounds and is really energetic. She tries to eat everything and hates her crate. she'll hold her bowels over night but wont give us a signal during the day to let her out. instead she goes next to the cat box. any suggestions on this and on how to get her to stop biting and jumping when we get home?
Jul. 8th, 2010 @ 09:10 pm
the cure?
Current Mood:
amused

So the pup is pretty pathetic, howling and whining and crying mostly b/c he just wants out to play... I decide to go through a stack of old CD's that weren't labeled. I come across an old Michael Jackson mix I made, like, a 6-7 years ago and the dog stops everything and stares at the CD player, then lays down and goes to sleep..I will put this on repeat and listen to it for days if that's all it takes to sleep all night LOL!
Jul. 8th, 2010 @ 06:04 pm
(no subject)
Current Mood:
melancholy

Well I am now the owner of the saddest puppy...just got back from the vet and he is now "fixed." All he wants to do is jump on the couch, and i can't let him do anything, so im keeping him in his crate as the vet suggested to keep him "quiet." I want to know how exactly you are supposed to keep an Aussie quiet LOL. I took away his toys and he started attacking his blanket, i took his blanket away, and he attacks his own tail JEEEEZ! So for 3 days I get to be the mean mommy, and try not to cry more than him LOL
Jul. 7th, 2010 @ 01:01 pm
(no subject)
Some recent pictures of my ADD Aussie mix from the Minnesota Collie Frolic (my other dog is a collie)



Jul. 5th, 2010 @ 09:57 pm
(no subject)
A few more pics of my baby
Jul. 5th, 2010 @ 09:25 pm
New mommy!
Current Mood:
chipper

Hey all! I just stumbled across this site when trying to find some more info about my new puppy, Mider. He is almost 12 weeks old and is an Aussie mix...just not quite sure what the other half is, but its looking like beagle. We adopted him from a local shelter when he was 8 weeks old and is already the love of our lives :) As I write this, he is curled up under my footrest, snoring away...gotta love that!!! So anyhow...its good to see that there is a place for us mutt lovers!
!
Jun. 10th, 2009 @ 02:25 pm
(no subject)



Hello, I just found this group today while I was killing some time before leaving work. I adopted my dog from the Humane Society in Coon Rapids, Minnesota. There were four puppies and they said they were aussie shepherd/cattle dog mixes. I've done some reading and found that only the shepherds can have blue eyes, but his coat is shaggy in some spots and short in others. I don't have many pictures of him here at work, but do have these. We named him Brett Favre, as we got him as a 4-month-old puppy in March 2008, right after the human Brett retired - the first time.


Dec. 6th, 2008 @ 11:59 am
Zepplin, Doggers of Cute
Zepplin's over a year and a half old, and I've had him for over a year now. I can't believe time flies that quickly, it seems like only yesterday he was a little floppy eared furball. Now he's bat-eard, ACD mix of terror!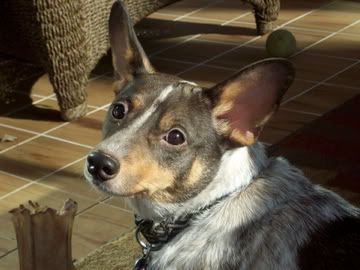 (

Cute Doesn"t Even Begin to DescribeCollapse

)



X-posted like whoah. So sorry if you see this more than once.
Sep. 15th, 2008 @ 05:22 pm
Doggie DNA Blood Test
I keep in contact with this girl Jennifer. She owns Fonzie who is Zepplin's brother. We both constantly debated and guessed as to what our two little boys could be. We both knew Australian Cattle Dog was the obvious main part of our boys' heritage. But what else was in their blood? We both assumed some sort of terrier, Rat Terrier being the main culprit.

To make a long story short Jennifer got the blood test done for Fonzie and e-mailed me the results the other day. So... what are our two boys besides Australian Cattle Dog?

Here's a picture of the two for a refresher.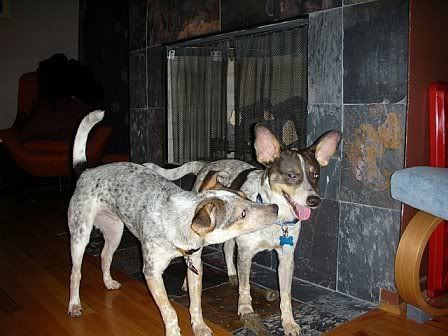 (

Larger picture of the two under the cutCollapse

)



Okay so you ready for the results?? You suuuuuure???

Mostly Australian Cattle Dog (as we already knew), with trace amounts of Rhodesian Ridgeback and Weimaraner.

Here's a picture of these two breeds for a

(

reference.Collapse

)